I actually was not aware that The Boys in the Band wasn't an original film, just before sitting down to watch this new Netflix film, I found out it's based upon an older off Broadway play. Well after seeing the film, I would sure love to see a production of the play. I had a generally positive reaction to this film due to it's fine performances, interesting characters, and the issues explored. The real meat of this whole thing is each characters particular issues and how the time period affects those issues. This isn't a perfect film and I imagine the play is better but it's definitely a good film with some great performances.
Jim Parsons is the main character among the ensemble assembled and I must say that he really bares his soul with a hyper dramatic performance that exposes his characters deep personal issues. This is probably the best performance I've seen from him… very skilled. I appreciated his character as well. At first, he comes across as pretty damn unlikable but as layers are pulled back and more about him is learned, his character ultimately represents a tragic example of deep shame that society is predominantly to blame for.
Having this character in The Boys in the Band is important because it exposes how warped it really is to suppress who you really are and it also exposes the horrific consequences of an oppressive society. Tuc Watkins and Andrew Rannells play a couple and they not only give really good individual performances but they have a great arc together. Watkins' character has a good bit of depth and his backstory is an example of how a lot of gay men back then lived.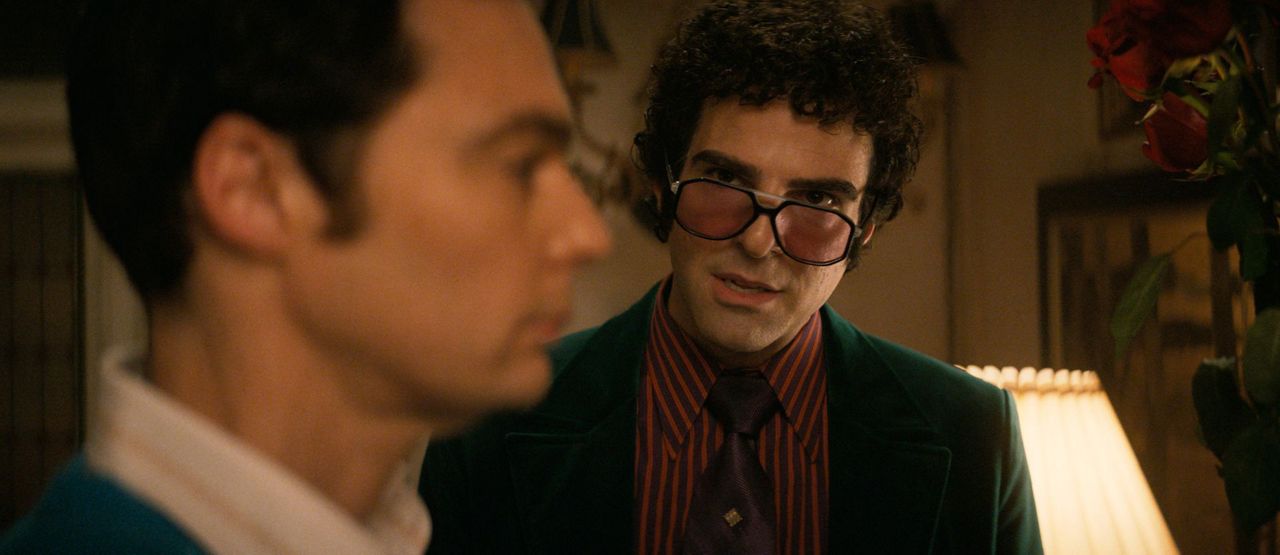 What I so love about Watkins' character is that he's such a lovable guy; he comes across as this gentle giant. So, not only does he represent a very real type of situation a lot of gay men were in back then, but he's also just a good guy that you love to watch. As far as Rannells goes, his character isn't quite as deep or interesting as Watkins' but he serves as a worthy partner for him and they have a genuine seeming chemistry together.
Matt Bomer and Zachary Quinto represent similar types of gay men. In short, they're both secure with themselves and don't have the hang-ups that the other men do, They're the characters that you'd want to be. Matt Bomer in particular is a really lovable character because of how good a friend he is to Jim Parsons' character. Robin de Jesus plays Emory, a very effeminate gay man who is loud and proud in every sense. I really loved him because it's just great to see a proud unashamed gay man in 1968, someone who absolutely refuses to apologize. Jesus gives a lovely performance, he makes Emory very likable and a real force to be reckoned with.
Michael Benjamin Washington gives a skilled performance as Bernard, who's an average gay man in the city but what's unique about him is that he's the only black man in this group and he shines a light on the issue of racism. His character is a man who not only has to deal with being gay but also being black… in the 1960s. Lastly, Brian Hutchison plays a man who's struggling with internalized homophobia, like so many have over the course of history have due to societal discrimination. His character is a smart addition and he shines a light on the very ugly reality of shame and internalized hatred.
What The Boys in the Band gets right and does well is present us with these different gay characters of different backgrounds who struggle with different issues and it shows us how this personal baggage along with society affects them. I would say there are two areas in which the film misses the mark. One is that the first half, while not boring, needed a little something more to it, I didn't feel totally engaged until about 45 to 50 minutes in. Two is Charlie Carver's character, Carver is a decent actor but his character is a dud and I get he's supposed to be funny but it's tonally jarring.
The Boys In The Band is a well made film overall and while it has it's flaws, the fine performances and interesting main characters make this worth a watch. And as a member of the LGBTQ community, I must say that it's quite beautiful to see a film about gay men in the 60s… things were just so different.
'The Boys in the Band' review: An imperfect showcase of fine acting and gay history
The Boys In The Band (2020)
The Boys In The Band has its flaws but the fine performances and interesting characters make this film worth a watch.
Fine, skilled performances
Interesting characters with depth
A script that delves into the society of the time
Charlie Carver's character
First half of the film is a bit slow